You Must Choose One of the Two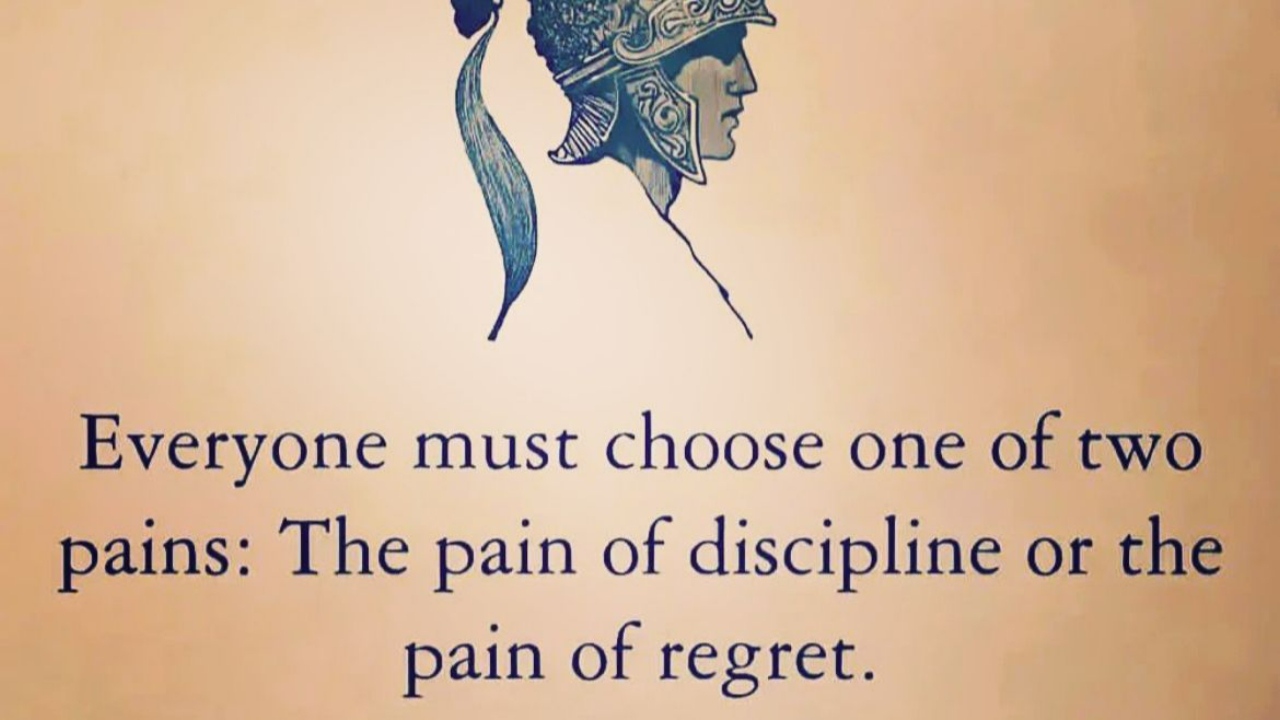 Some people get up every morning and love their workout. I've been working out five mornings a week for years and I've hated it every single day.
Hate is a strong word. But I'm pretty sure that sums it up. And the truth is I never expect that to change. So it's ok. I just do it because I feel, look, and move better with this discipline. I would regret not feeling this freedom otherwise.
I'm not a structured person by nature. I never read directions, like standing in line, or understand hierarchy.
But I do understand the value of discipline even though it doesn't come naturally to me.
Why?
Because I'm motivated by avoiding the pain of regret. I don't live in regret. It's defeating.
It's why I track mindful daily practices every day (yoga, meditation, slowly drinking a glass of water) to keep me in the present moment so I can be self-aware enough to control my runaway thoughts and emotions.
Because those thoughts tell me I don't have time for woo-woo stuff like that. Yet I just do it because I don't want to regret eating too much candy at my desk, being impatient at a meeting, withdrawing, or giving up on myself later.
It makes me sad when people feel victimized by people, situations, and companies.
Nobody, no situation and no organization can freeze your choices.
You just have to commit. Are you motivated by discipline or regret? Because both involve pain.
Funny thing is, once you develop routines you don't concentrate on the pain. You just do them for the gain.
The Still Space Podcast - #40 How to Be The Agile Leader – When You're Not Sure How. In this episode Mary Lee unravels what it is to be an agile leader, how to manage yourself in the areas that don't come naturally to you. She explains how a team mantra or manifesto can become the guide that grounds everyone and that a carefully balanced system of agility and stability lends itself to efficacy. Humility is key. Listen wherever you listen to podcasts or here: Mary Lee's website Apple Spotify
If you are feeling age discrimination when your company should be putting your expertise to good use, this link to the strategies I share with my clients might help >>> 10 Tips When You Fear Age Bias
Your coach,
Mary Lee
P.S. Feel free to send this link to someone who could benefit from it. We are all walking down the same road in life looking for a hand to hold. Sometimes we must be the hand that reaches out.
Mary Lee Gannon, ACC, CAE is an executive coach and 19-year corporate CEO who helps leaders have more effective careers, happier lives and better relationships. Request a free consultation call.
Stay connected with news and updates!
Join our mailing list to receive the latest news and updates from our team.
Don't worry, your information will not be shared.
Subscribe